Visegrad Scholarship at the Blinken OSA Archives
October 16th, 2019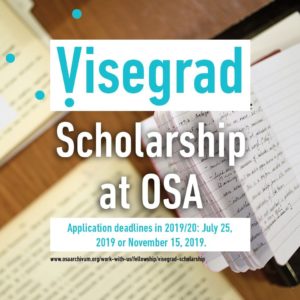 The Blinken OSA Archives invites applicants from the fields of history, the arts, philosophy and sociology to reflect on the conditions of knowledge production during and after the Cold War. This reflection exposes the intellectual and professional practices (journalistic, sociological, artistic, political, archival) that both reflected and shaped the meaning and scope of the Cold War phenomenon.
Annually 15 scholarships of 2000 EUR each are offered to support a two months long stay and research at the Blinken OSA in Budapest.
Submission deadlines for the 2019/20 academic year:

July 25, 2019
November 15, 2019
Research topics within the Visegrad Scholarships at OSA
Toolkits and media practices to ensure objectivity
Conceptualizing and classifying opposition (selection and support for what counts as a "movement", "dissidence" or "non-conformism")
Techno-sciences of mass communication
Circuits of communication and (anti-)propaganda techniques: information gathering and classification, textual and visual dissemination (book programs, samizdat, TV monitoring, instructional and documentary movies)
Problems of documentation and verification of human rights abuses
Construction of political 'facts' amidst socio – economic issues (standards of living, urbanization, education, religion etc); Historical analysis of socialist welfare policy and poverty under communism
Documenting transnational phenomena in a time of polarized visions and imbalances between centers and peripheries
Consequences of Cold War conceptual schemes and treatment of information on current economic and socio-political issues
Reflection on the (Cold War) receptions, instrumentalizations and revisions of the history and the notion of the Revolution.
Related to the centennial of the Bolshevik revolution OSA encourages both scholars and artists to reflect on the (Cold War) receptions, instrumentalizations and revisions of the history and the notion of the Revolution.
The Open Society Archives' holdings are informative not just about different phenomena during and after the Cold War, but also about the forms through which these phenomena were reflected, archived, classified, reported and commented. By hosting collections related to the Radio Free Europe research section, the Soviet press, sociological institutes, former dissidents or book distribution programs, our documentary portfolio functions as both a repository of ready-made topics and as a cluster of media practices in analyzing, gathering and selecting information.
More information: http://www.osaarchivum.org/work-with-us/fellowship/visegrad-scholarship